For more than a year, Dockwa has helped marinas throughout the U.S. manage long-term contracts and now we enhanced your Dockwa profile to allow boaters to inquire with you directly about seasonal or annual slips, moorings, and storage. They'll be able to use the "Request Seasonal Dockage" button bellow the transient request form on the marina's Dockwa profile to submit their long term requests.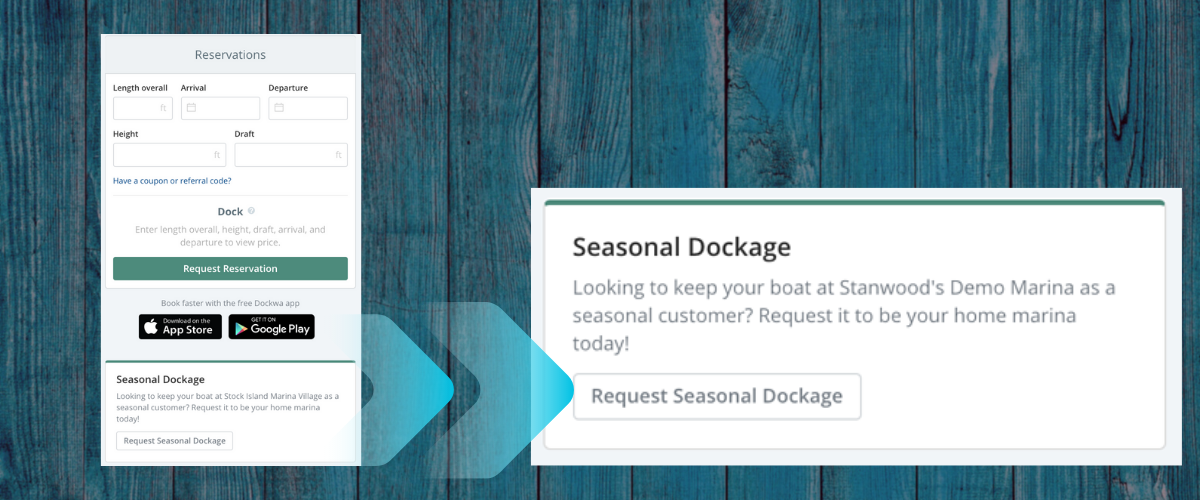 To review and respond to new boater inquiries, follow step by step instructions below:
1. When a boater makes a seasonal dockage inquiry at your marina, you will be notified of the inquiry:
via email

on your Dockwa Dashboard homepage

in your Dockwa Dashboard menu
You will also receive an email every Monday, reminding you of and linking to all of your open inquiries.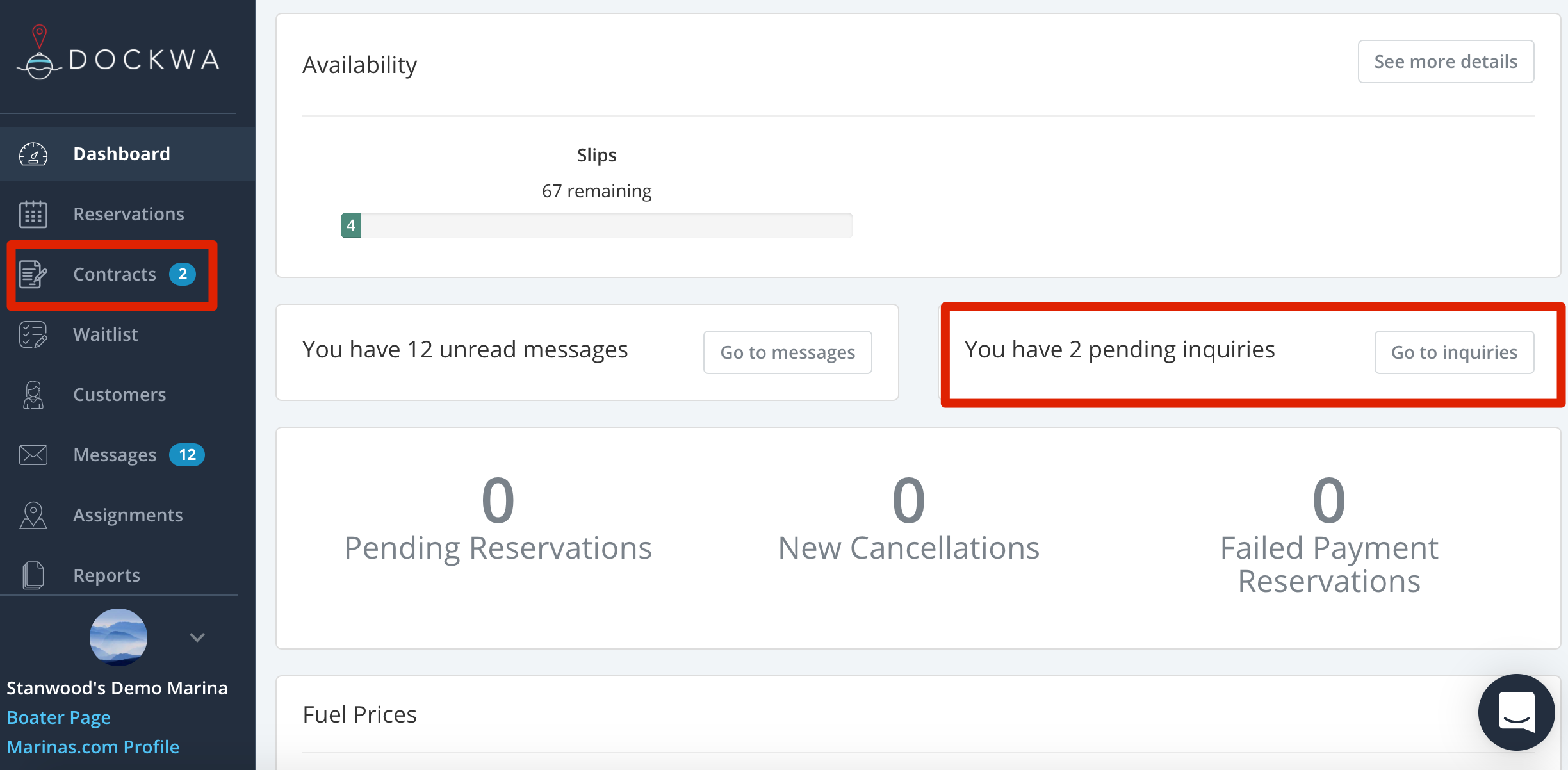 2. Open the email and Navigate to your Inquiries page to review new inquiries. Here, new inquiries will be marked as "Pending."

3. Take "Action" to respond and process inquiry
If you have space to accommodate the boater, mark the inquiry as "In Progress"

and reach out to the boater to confirm next steps

To Message the boater, select "Actions" then "Send Message"

Don't have space to accommodate the boater? Click "Decline" on the inquiry.
Note: Dockwa will expire any inquiry left "Pending" on the fourth Sunday after its submission.
4. When you're ready to send the boater their contract, choose "Create Contract" from the inquiry dropdown and add the inquiry to one of your contract groups.
Need help creating a contract in Dockwa? Review Getting Started with Contracts or email success@dockwa.com.
Still sending contracts and billing customers the old-fashioned way? Click "Decline" on the inquiry to let us know you contacted your boater but will not be sending a contract through Dockwa.
5. Navigate to your boater's contract group and click "Send." Your boater will receive an email through which they will sign their contract and pay for their dockage.
---
Here's what else you should know.
If you remember nothing else - respond to your inquiries ASAP. To ensure the boater has a positive experience and isn't "left hanging," Dockwa will expire any inquiry that is left "Pending" for four weeks. In many cases, these inquiries are worth thousands of dollars so be sure to follow up quickly. Remember - these boaters are likely submitting inquiries at other locations!
If you want to receive more seasonal inquiries: Put a link to your long term inquiry landing page on your website! We can even build you a custom Dockwa-branded button to make it stand out on your page.

If you do not want to receive seasonal inquiries: Let us know, and we can remove it from our page. Send us an email at success@dockwa.com and we will be in touch shortly!